Vengeance of the Moon Knight - (2009-2010)
The cancelation of Moon Knight's 5th series led directly into his next. However, rather than a new series by the same name, it was named "Vengeance of Moon Knight." The series only lasted ten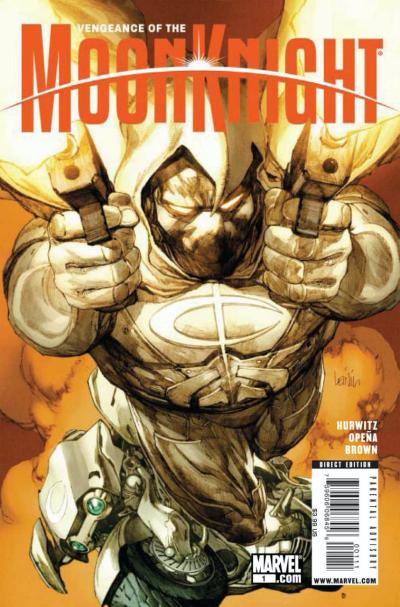 issues and would do what it could to re-establish a status quo as quickly as it possible. New writer Gregg Hurwitz began by having Moon Knight return to New York and quickly earning the public's trust and admiration. Even his own allies, Marlene and Frenchie, quickly flocked to his side. Also at his side was the ever present voice of Khonshu, whispering in his ear.
By this time, the post-Civil War status of the Marvel Universe had given power to Norman Osborn as the country's "top cop." Above all else, Osborn distrusted that which he could not control and saw in the newly popular Moon Knight an unknown quantity. During the first storyline running #1-6, Osborn (with the help of the Profile) sent various lackies to break the rogue hero, including the Hood, the Scarecrow and even Bushman, whom Osborn had resurrected just for the purpose of psychological manipulation. At the end of the story, Marc Spector demonstrated his own willpower over the nagging voice of Khonshu and refused to kill Bushman.
Fortunately for Moon Knight, Osborn's time in power was not to last and he soon fell from grace with government officials. Replacing him was Steve Rogers, who had returned to action, though not as Captain America. He now replaced Osborn has the country's "top cop" and in #9-10, seeing a true change in Moon Knight's behavior, decided to offer him a place in his Secret Avengers team, a new covert branch of the team.
Writers
Artists

#1-6 - Jerome Opeña
#7-8 - Tan Eng Huat
#9-10 - Juan Jose Ryp
---
Secret Avengers (1st series) - (2010-2012)
The tone of the new "Secret Avengers" title was more of a combination of noir and spy themes, both of which fit in with the style of Ed Brubaker, who wrote the first twelve issues of the series. Although he did not appear in every story during his tenure on the team, Moon Knight participated in the Avengers' mission to Mars to foil the Shadow Council's acquisition of the Serpent Crown [#1-4] and later helped infiltrate the Shadow Council's organization to prevent Shang-Chi's father from being resurrected [#6-10]. Nick Spencer took over writing for the title with the unusually numbered #12.1 (a short-lived practice at the time) but did not use Moon Knight during the Fear Itself crossover issues, running #13-15. However, the next writer, Warren Ellis but did use Moon Knight during the culmination of the Shadow Council storyline, which ran from #16-21. At the end of this story, Rogers decided on a "re-shuffle" of the team's membership and Moon Knight did not return. Although Warren Ellis did write Moon Knight out of the series, this was not the last time he would use the character, as he would write the hero's 7th series a few years later.
Writers
Artists

#1-12 - Ed Brubaker
#12.1, 13-15 - Nick Spencer
#16 - Warren Ellis

#1 - Mike Deodato
#2 - Mike Deodato w/ Will Conrad
#3-4 - Mike Deodato Jr.
#5 - David Aja, Michael Lark & Stefano Gaudiano
#6-8 - Mike Deodato
#9-10 - Mike Deodato w/ Will Conrad
#11 - Will Conrad
#12 - Will Conrad w/ Mike Deodato
12.1, 13-15 - Scott Eaton 
#16 - Jamie McKelvie
#17 - Kev Walker
#18 - David Aja w/ Raul Allen
#19 - Michael Lark
#20 - Alex Maleev
#21 - Stuart Immonen
---
Moon Knight (6th series) - (2011-2012)
It was only a year later that Moon Knight received his next series. Although not labeled a miniseries, it is clear that writer Brian Michael Bendis had a specific story to tell and it only needed twelve issues. Right away, Bendis change the character's status quo, both in setting and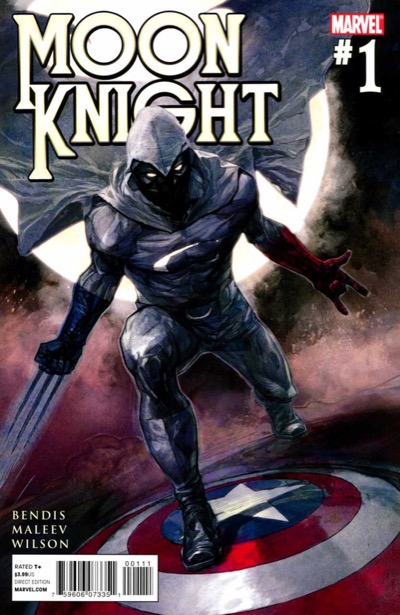 personality. For most of his career, Moon Knight had been based in New York but when this series began he had already moved to Los Angeles and, apparently, become a television producer. Bendis quickly depicted that this was merely a ruse for Spector to look into rumors of a new "kingpin of Los Angeles." By the end of the first issue, Bendis also showed that Marc Spector's dissociative identity disorder had recently manifested into him believing that Captain America, Spider-Man and Wolverine accompanied him around and offered advice on what he was doing.
Bendis also introduced a supporting character in Echo, the deaf super-hero whom Bendis had used as a love interest during his run with Daredevil years before, and the two joined forces to investigate the mysterious kingpin. Although she rebuffed Moon Knight's affections when he misinterpreted her signals, the two nevertheless soon started a relationship. Eventually, the kingpin turned out to be the powerful Count Nefaria and Echo died during their confrontation. Doing his best to cope with the tragedy, Moon Knight began to see Echo as a mental ghost, much as with Captain America, Spider-Man and Wolverine. Eventually, with the help of the Avengers, Moon Knight helped to take down Nefaria, after which he decided to return to New York.
| Writers | Artists |
| --- | --- |
| #1-12 - Brian Michael Bendis | |
---
Moon Knight (7th series) - (2014-2015)
Two years later, Warren Ellis would return to the Moon Knight character, writing the first six issues of his 7th series. In this new series, Ellis introduced the character of psychiatrist Elisa Warsame, who addressed the issue of Spector's D.I.D. condition directly. Specifically, Warsame voiced the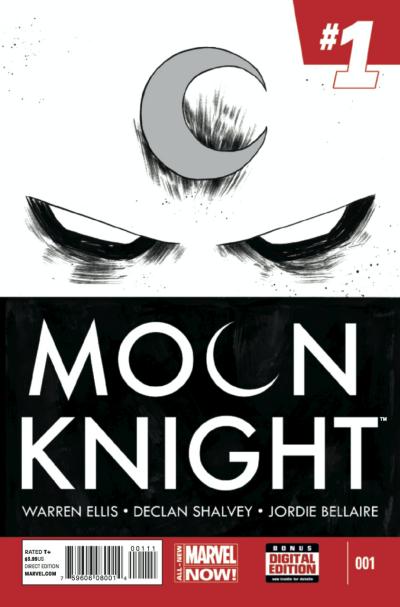 theory to Spector that he had never suffered from the condition – rather that his extra personalities had been created by Khonshu for the deity's own purposes.
Although operating once again in New York, Spector eschewed his old trappings and did not reach out to either Marlene or Frenchie, instead heavily relying on self-driving or self-piloting vehicles. He also created a new hero identity of Mr. Knight, appearing in a completely white 3-piece suit and full, skin-tight facemask, who could be hired as a consultant to local authorities without the baggage of the Moon Knight personality.
Writer Brian Wood took over for the series second arc, running #7-12. Wood took up the storyline of Doctor Warsame and explored her past, specifically her being the daughter of the former leader of the fictional African name of Akima, whom current dictator General Aliman Lor had overthrown. Writer Cullen Bunn took over for the series' third and final storyline, running #13-17. During the story, Moon Knight found his abilities diminished when Khonshu withdrew his blessing. The reason was soon revealed that the creature he was facing had also been a follower of Khonshu. This led to Moon Knight discovering other acolytes doing evil in the name of the moon god. Marc Spector did the only thing he felt he could and destroyed them all, beating their priestess in combat and burning their temple to the ground.
Writers
Artists

#1-6 - Warren Ellis
#7-12 - Brian Wood
#13-17 - Cullen Bunn

#1-6 - Declan Shalvey
#7-12 - Greg Smallwood
#13-14 - Ron Ackins
#15-17 - German Peralta
---
Moon Knight (8th series) - (2016-2016)
Moon Knight's next series began almost immediately. Written in its entirety by Jeff Lemire, the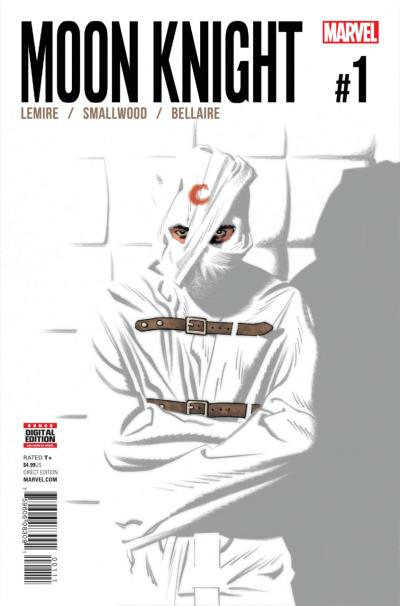 new series started much like Moon Knight's 5th series, beginning in medias res. Marc Spector found himself in an insane asylum, believing that this entire career as Moon Knight was merely a delusion. As the series progressed, Marc escaped the asylum and the entire sequence of events that followed led readers to question what was really happening, as everything was seen through Spector's clearly deluded perception of the world. The series ended with Marc actually returning to the asylum, where he "confronted" Khonshu and ultimately rejected him, claiming his life (and his mind) as his own. Whether any of this actually happened was up for the reader to decide on their own. However, one aspect of Marc Spector's history that the series did establish for the first time was that his mental issues predated his recruitment by Khonshu and that the identities of Steven Grant and Jake Lockley had been with him since childhood.
Writers
Artists

#1-4 - Greg Smallwood
#5 - Greg Smallwood, Wilfredo Torres, Francesco Francavilla and James Stokoe
#6 - Greg Smallwood, Wilfredo Torres, Francesco Francavilla and James Stokoe
#7-14 - Greg Smallwood
---
Moon Knight (1st series) - (2016-2018)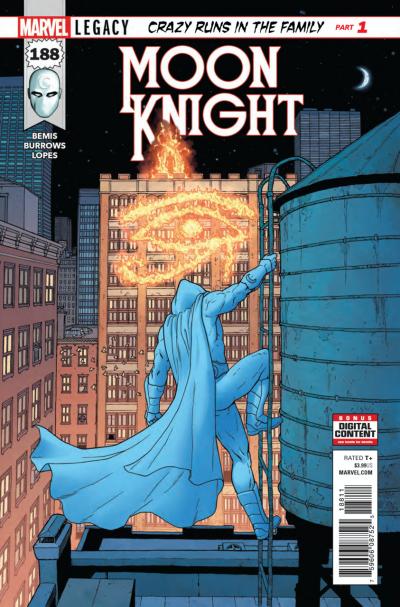 Ever since the early 2000s, Marvel editorial had waxed and waned on whether new #1s or "legacy" numbering systems were more desirable for their readers. Around the time Moon Knight's 8th series ended, the trend was to restore the "legacy" numbering system, which added up the total number of issues of all of that character's series. Immediately after his 8th series ended, Moon Knight returned with #188 of what we (admittedly subjectively) refer to as a continuation of Moon Knight (1st series).
To get to this numbering, Marvel used the following math:
Moon Knight (1st series) – 38 issues
Moon Knight (2nd series) – 6 issues
Marc Spector: Moon Knight – 60 issues
Moon Knight (5th series) – 30 issues
Vengeance of Moon Knight – 10 issues
Moon Knight (6th series) – 12 issues
Moon Knight (7th series) – 17 issues
Moon Knight (8th series) – 14 issues
Total – 187 issues
As note, they had to ignore the 4 issues of Moon Knight (3rd series) and the 4 issues of Moon Knight (4th series).
The entirety of this 13-issue new series was written by Max Bemis, who continued the story of a Marc Spector's rejection of Khonshu. The result was a mind that still possessed multiple personalities, but less chaotic. Khonshu now existed as a voice of reason, more of a father figure than anything else. Marc also shifted effortlessly between his own life and that of Steven Grant, once again a millionaire philanthropist. Of course, as always, there was the identity of Moon Knight.
Marc's new life was tested when another man with mental issues led himself to believe he was the "Sun King," an avatar of Ra, who in turn was an adversary of Khonshu. The Sun King made it his mission to destroy Khonshu's avatar and led Marc Spector into a trap involving his ex-lover Marlene… and their daughter Diatrice. To Marc's surprise, he had fathered Diatrice while under the Jake Lockley persona and had simply forgotten. Wishing to protect his newly discovered family,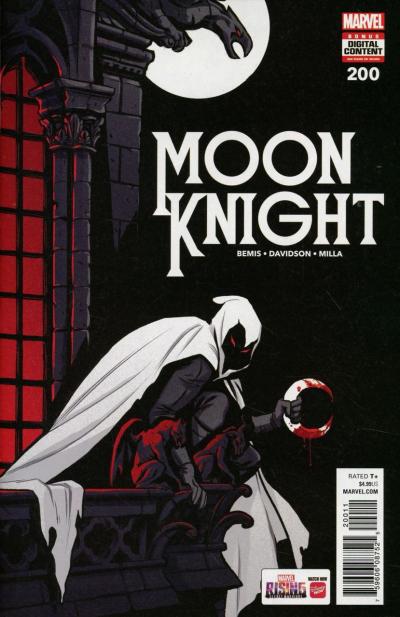 Marc went along with the Sun King, who for good measure had involved Moon Knight's oldest foe, Bushman. By the end of the first story arc in #193, the Sun King was defeated and Marc Spector found himself with a new family.
This final arc of the series, running #197-200, tested Marc Spector's priorities as Moon Knight – whether it was justice or vengeance. He became involved to the Societe de Sadiques, a society populated by members who enjoyed inflicting pain and misery for its own sake and who saw in Moon Knight someone whom they believed to be a kindred spirit. For Moon Knight, the question was whether he truly believed in justice or vengeance, or were they just excuses so that he could inflict pain in others. In the end, however, Spector ended up on the side of justice and stood against the society. Proving he was his own man, Spector returned to his family, which is where the series ended.
Writers
Artists

#188-193 - Jacen Burrows
#194 - Ty Templeton
#195-196 - Paul Davidson
#197-198 - Jacen Burrows
#199 - Paul Davidson
#200 - Paul Davidson w/Jacen Burrows, Jeff Lemire & Bill Sienkiewicz