| Years | Issues | Series Name | Brief Description |
| --- | --- | --- | --- |
| 1980-1982 | #1-25 | Savage She-Hulk | Lawyer defending the innocent in court while her hard-to-control alter-ego gets physical. |
| 1982-1984 | #221-242 | Avengers (1st series) | Joins Earth's Mightiest Heroes |
| 1984-1987 | #265-300 | Fantastic Four (1st series) | Replaces the Thing on the Fantastic Four |
| 1985 | #18 | Marvel Graphic Novel | John Byrne's first solo She-Hulk story |
| 1987-1988 | #278-297 | Avengers (1st series) | Returns to the Avengers |
| 1989-1994 | #1-60 | Sensational She-Hulk | John Bryne's fourth wall-breaking series known for comedy. |
| 1995-1996 | #13-18 | Fantastic Force (1st series) | Lightens up the Fantastic Four spin-off |
| 1998-1999 | #8-19 | Heroes for Hire (1st series) | Bills by the hour to help out the Heroes for Hire |
| 2000-2004 | #27-84, 500-503 | Avengers (3rd series) | Another stint on the Avengers until they get Disassembled |
| 2004-2005 | #1-12 | She-Hulk (1st series) | Puts her law degree to use while still battling wacky villains (Dan Slott series) |
| 2005-2009 | #1-38 | She-Hulk (2nd series) | Direct continuation of the previous volume. Slott replaced by Peter David with #22 |
| 2009 | #1-4 | All-New Savage She-Hulk | "New" She-Hulk Lyra meets Jennifer |
| 2010 | #1-3 | Fall of the Hulks: The Savage She-Hulks | Crossover miniseries in which Lyra rescues Jennifer. |
| 2010-2011 | #612-623 | Incredible Hulks | Teams-up with fellow Hulk characters |
| 2011 | #1-14 | She-Hulks | Jen and Lyra take down the Intelligencia |
| 2013-2014 | #1-16 | FF (2nd series) | Matt Fraction / Mike Allred series, wacky tone |
| 2013-2014 | #5-14 | Mighty Avengers (2nd series) | Pro-bono lawyer and member |
| 2014-2015 | #1-12 | She-Hulk (3rd series) | A lawyer-based series written by lawyer Charles Soule |
| 2015 | #1-9 | Captain America and the Mighty Avengers | A team player in the Last Days of 616 |
| 2016 | #1-10 | A-Force (2nd series) | All-female Avenger spin-off team |
| 2017 | #1-11 | Hulk (4th series) | A bulkier, gray She-Hulk battles depression |
| 2018 | #159-163 | She-Hulk (1st series) | Previous volume returns to the Legacy numbering |
| 2018-2022 | #1-50 | Avengers (7th series) | A much stronger, less articulate She-Hulk joins an A-list Avengers team |
| 2022 | #1-? | She-Hulk (4th series) | Series returning to comedy, romance and law |
---
CREATION
In 1980, She-Hulk was arguably the final, majorly popular character created by the legendary Stan Lee, with original art done by the legendary John Buscema. However, the fun-loving character that Marvel fans would come to know was actually created for cynical reasons. The story goes that the success of the Incredible Hulk television series got Marvel nervous that the network would attempt
to create a spin-off with a female version of the gamma-infused character. The root of this fear came from the creation of The Bionic Woman as a spin-off of The Six-Million Dollar Man. Universal Studios then had sole ownership of the character and did not have to compensate the original author of the novel Cyborg, upon which The Six-Million Dollar Man was based. With Marvel creating She-Hulk first, they could ensure that the network would not own any similar character created for the Incredible Hulk show.
This link to the show is evident in the first line of text in issue #1 of Savage She-Hulk, which shows Bruce Banner on his way to visit his cousin Jennifer Walters. It reads, "Call him David, or Bruce, or Bob—what does it matter?" David was the first name of Hulk's character in the popular show, which allegedly changed because the producers thought the name Bruce sounded "too homosexual." Stan Lee would later admit he found this reason to be foolish but he nonetheless relented. Perhaps this was, in part, because he was fighting to ensure that the character remained green, which the producers also supposedly wanted to change. Regardless of the truth behind the production of the Hulk TV show, the success of it directly led to the creation of She-Hulk.
In the past, Marvel had already created female spin-off characters for similar fears of missing licensing opportunities. They had created Spider-Woman in 1977 in anticipation that another comic company would publish a similar female Spider character to capitalize on the success of Spider-Man. Unlike Spider-Woman (who had an origin completely removed from Peter Parker) She-Hulk actually included a direct link to her male counterpart. She had received her powers from a blood transfusion given to her by her cousin Bruce Banner.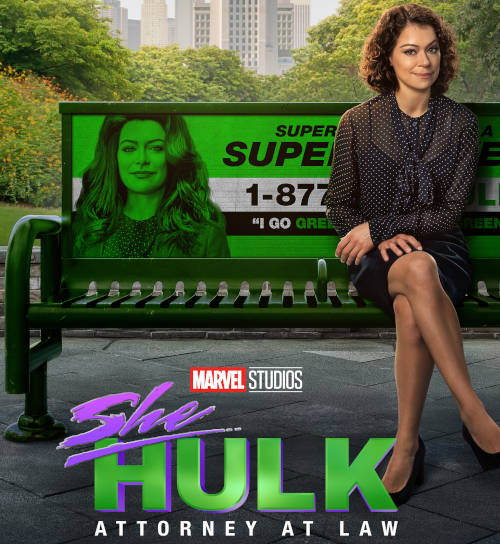 While perhaps not created for the most inspired reasons and having written no more than the first issue, Stan Lee would admit later in life that he had always liked the character. He would often mention She-Hulk as one of the female characters he had created for which he had a soft spot. Stan Lee's first issue did a good job establishing the character's origin and helped lay the groundwork for writers like John Byrne to flesh out the personality traits that would later define her. Finally, 42 years after her creation, She-Hulk has once again followed in her cousin's footsteps to headline her own popular television show. The future seems bright for the Green Gamazon.