Publication Date:
18th Aug 2022
Costume Gallery
COSTUME GALLERY
(Click images to see larger version)
1) In the same way the Hulk always found himself wearing torn purple pants, the She-Hulk initially appeared with the same torn white undershirt during her transformation. [Savage She-Hulk #1] 
2) With the encouragement of the Wasp, She-Hulk began wearing slightly more stylish leotards and one-pieces while working with the Avengers, ranging from orange to purple to dark blue. The look varied constantly, with sleeves or exposed shoulders, bare feet or a set of leg warmers and tennis shoes. [Avengers (1st series) #224]
3) Upon joining the Fantastic Four, She-Hulk adopted a modified version of the Four's traditional uniform. She wore a sleeveless one-piece leotard of blue-black fabric with a white belt and collar, as well as white gloves and boots. A black '4' symbol in a white circle rested on her chest. [Fantastic Four (1st series) #265]
4) When she returned to the Avengers, She-Hulk wore a costume similar to her FF design, but unique to her. This purple leotard had an open neckline and a white belt. She wore purple boots with a white trim, and white armbands as well. [Avengers (1st series) #278]
-) After a brief hiatus from the Avengers, Jennifer returned wearing a slightly different costume. Now She-Hulk wore solid white boots and gloves, no belt and a white fabric covering her neck atop the purple leotard. [Avengers (1st series) #305] She would run through a series of slightly different costumes and looks in her now-trademark pink/purple colors, from leotards to gym shorts. In her own Sensational She-Hulk series around this time, Jennifer avoided any real super-hero costume, performing in street clothes more often than not.
5) While offering her services to Heroes for Hire, She-Hulk wore a different outfit than her usual closet of purple leotards. This costume was comprised of a high-necked and skintight white shirt with blue bike shorts. She also wore blue boots, fingerless gloves and a metallic belt. [Heroes for Hire (1st series) #12]
6) During her next stint with the Avengers, She-Hulk adopted a new costume. This white, sleeveless and bare-legged leotard had a purple neckline and stripes cut around her legs. She also wore white boots with purple trim and purple fingerless gloves with white bands. [Avengers (3rd series) #27]
-) For a time, She-Hulk returned to wearing her pink leotard from the 80's.
7) She-Hulk switched into a new variation of her leotard once the Avengers were recognized by the United Nations. This high-necked one-piece was white down the center with purple on the sides. She wore purple gloves and boots as well. [Avengers (3rd series) #65]
8) As a member of the Magistrati, She-Hulk was recruited to represent universal law. Her Magistrati robes resembled Greco-Roman design, with a purple skirt and top tied over one shoulder with a cape. The golden face symbol of the Magistrati was a clasp on that shoulder. She also wore purple boots and golden arm bands and leg wrappings. [She-Hulk (1st series) #7]
9) After her strength level increased exponentially, Jen had difficulty controlling her power while in She-Hulk form. While consulting with Reed Richards, her boyfriend at the time John Jameson provided the Jupiter Suit, something once designed for him when he temporarily gained super-strength. The colors were adjusted to Jen's liking, making a white suit with purple highlights. [She-Hulk (1st series) #9]
10) Joining the Hulkbusters as a S.H.I.E.L.D. agent, Jennifer began wearing the traditional skintight bodysuit of S.H.I.E.L.D. field operatives – a midnight blue catsuit with white boots and gloves, along with an assortment of straps and pouches. [She-Hulk (2nd series) #15]
11) As a bail enforcement agent, She-Hulk altered her costume to more closely resemble casual attire. Her leotard was redesigned as a crop top, worn with purple jeans. [She-Hulk (2nd series) #22]
12) While working with S.H.I.E.L.D. and the Lady Liberators, She-Hulk modified her previous costume to include combat boots, leather gloves and a hip belt. [Hulk (2nd series) #7]
13) After the Fall of the Hulks, Jen was operating with the Hulk Family and as a She-Hulk duo with Lyra. During this period, she altered her leotard from a one-piece swimsuit to resemble bike shorts. It was primarily purple with a white stripe in front, stripes on the hips, and matching purple boots and gloves. [Incredible Hulks #614]
14) She-Hulk adopted a new '4' uniform as an instructor for the Future Foundation and replacement member of the Fantastic Four. The team uniform was a dark-blue bodysuit which, in Jen's case, was sleeveless and open at the neck. A red circle with a yellow '4' insignia was on her chest. It was connected by two red lines at her shoulders and one red line down to her belt. From the belt, two more red lines descended to her red boots. She also wore metal wristlets. [FF (2nd series) #1]
-) After joining the Mighty Avengers organization, Jen shifted back to Costume 7. [Mighty Avengers (2nd series) #5]
15) She-Hulk's next costume kept the white and purple color scheme of her recent uniforms. The bare-legged and sleeveless bodysuit was mostly white with a purple portion up top, like the silhouette of a sports bra. It had a stylized 'S' under her neck and an 'H' on her belt. The look also included purple and white wristbands and white boots with purple laces. [She-Hulk (3rd series) #1]
16) Blah blah blah…white, purple, and now also PANTS! [A-Force (2nd series) #2]
17) After Bruce's murder and her near-death experience at the hands of Thanos, Jennifer's Hulk became an outward expression of her trauma. More muscular than the sensational She-Hulk, this Hulk was gray-skinned but with several prominent scars that glowed green with gamma radiation, particularly one straight across her nose. Her eyes also glowed gamma green. [Civil War II #4]
-) Back in action as her own Hulk, Jen initially wore a version of her last A-Force costume while with the Avengers, although the unstable molecules scaled up to support her new, larger Hulk frame. [Avengers (7th series) #8]
18) The Black Panther helped Jennifer control her new gamma powers by designing a regulatory costume using Wakandan Vibranium. This adjustable suit shifted design during her transformation – it was a full-body costume of purple and white when worn by Jennifer, but shifted to a freer purple and black set of shorts and sports bra when she Hulked out. [Avengers (7th series) #27]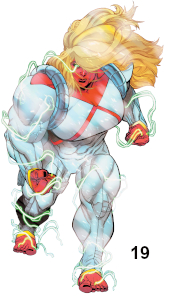 19) As the Winter Hulk, Jen was conditioned by the Red Room to serve as Russia's agent. She gained red skin and blonde hair, combined with a white costume with red lines on the front, cables at the shoulders, and a pouch belt around her right thigh. [Avengers (7th series) #47]