Publication Date:
5th May 2022
Costume Gallery
COSTUME GALLERY
(click images to see a larger version)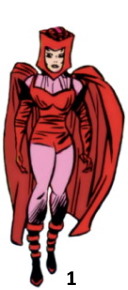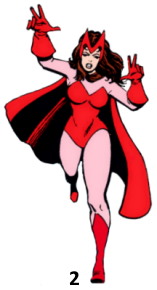 1) When she first was a member of the Brotherhood, the Scarlet Witch debuted in a bright red costume, the main part of which was cut like a bathing suit with a halter top and a broad belt (in an Esther Williams swimsuit style). Below it, she wore a leotard in a lighter shade of red, long scarlet shiny opera gloves and short, black boots with red stripes. In addition, she wore a complicated red kind of headpiece fastened under her chin that only left her face and the top of her head free. The costume also came with a long red cape. [X-Men (1st series) #4] It was also in this costume that she joined the Avengers but after a short leave of absence from the group, Wanda returned with a simpler headpiece. [Avengers (1st series) #36]
2) Later on, Wanda started to wear an even more streamlined version of the first outfit -- a halterless, red bathing suit above a pinkish leotard. Shorter red buccaneer gloves, simpler cut red boots, a red cape fastened around the neck and a simpler headpiece in the shape of an M completed the costume. This is the costume the Scarlet Witch would become most associated with, however she was always prone to a little variation, for example wearing different styles of gloves or boots. [Avengers (1st series) #75]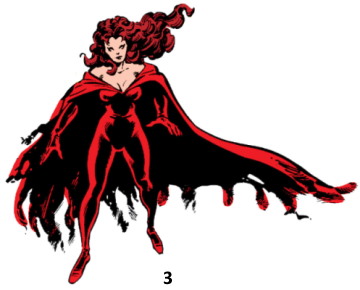 3) When Wanda was possessed by the evil Elder god, Chthon, her appearance changed dramatically. Glowing with energy and with her hair flowing wildly, she wore a one-piece, red suit with a torn cape. The longer she was possessed, the less human she started to look, becoming gaunt and pale. When she was freed, she returned to her standard look. [Avengers (1st series) #186-187]
4) During her time alone with the Vision after they had been forced to quit the Avengers, Wanda wore another variation of her standard outfit that once more brought back elements of her first costume, such as the halter top and the longer gloves. The middle of her costume was made of a more flowing, looser material, as her beginning pregnancy would soon show. [Vision & Scarlet Witch (2nd series) #1, 6]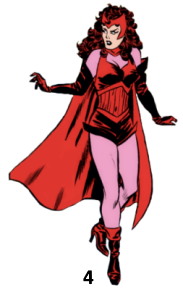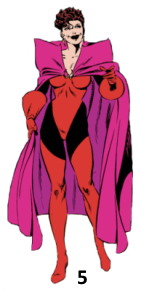 -) Several months later, the couple helped out and then joined the West Coast Avengers. Wanda again wore several variants of her classic, streamlined costume version. [West Coast Avengers (2nd series) #33]
5) Traumatized by several disasters in her life, the Scarlet Witch snapped for some time and joined her father, Magneto. During that time, she presented a dramatic, different look: the element that stayed was a red, bathing suit style. This was offset by the rest of her suit, which was black. A high-collared magenta cape, over-knee boots, shorter stylish hair, with long earrings completed the ensemble. [Avengers West Coast #55]
-) Free from her father's influence, Wanda returned to her old look for some time and, for the time it took her hair to grow back, she wore a wig, attached to the headpiece. [Avengers West Coast #68]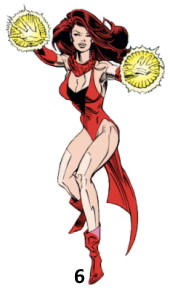 6) During the final days of the West Coast Avengers, Wanda switched her outfit, just before she was to become the leader of Force Works. Her new outfit looked like a dark-red halterless bathing suit with a red dress above it. The costume gave the impression of a cocktail dress. Short gloves, boots, a necklace and shorter straightened hair completed the look. Considering that this was meant to be a more dynamic, take-charge Scarlet Witch, the dress seemed like an odd choice for a new costume. [Avengers West Coast #102]
7) It was later replaced with a new look (at a time when several Avengers changed their costumes). A red suit with a long skirt with a slit up to the waist on both sides and with puffy red sleeves that left her shoulders bare and ended in black gloves. Beneath the skirt, she wore black pants and thigh-high red boots with arcane symbols. The look seemed to accentuate her status as a sorceress. [Avengers: The Crossing]
8) When the Avengers returned from the Heroes Reborn universe, Wanda first wore a new costume that combined several of her older looks: a red bathing suit (a little tighter than usual) with the cape attached to the shoulders. Red opera gloves, pink pants and boots in the style of her first costumes. In addition, of course, the ubiquitous M-tiara and more free-flowing curly hair. [Avengers (3rd series) #1]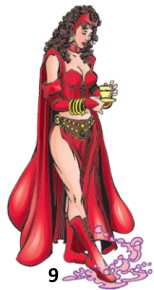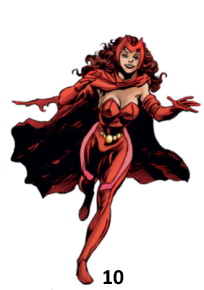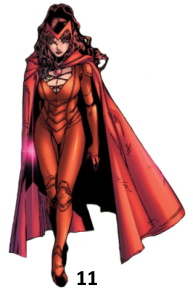 9) A short time later, Wanda wanted to get more in touch with her Romany heritage: she wore a red bodice, a long flowing skirt slit up on one side adorned with a heavy belt. Long gloves, a cape that seemed combined with a vest, a choker and lots of jewelry. [Avengers (3rd series) #8]
10) She later returned to a more practical look: a red halterless suit, with pink stripes on each side. Some gems hinted at a belt. Long gloves, the M-tiara and a long cape were a nod to her standard attire. [Avengers (3rd series) #38]
11) Still not satisfied with her look, Wanda continues to experiment with it. After a short period in her classic costume [Avengers (3rd series) #57], she once more experiments with a new outfit including a hooded cloak. [Avengers (3rd series) #65]
-) Following the House of M, her amnesia, and her powers being restored, the Scarlet Witch returned to wearing a classic version of her costume. [Avengers: The Children's Crusade #5]

12) With the Avengers Unity Division, Wanda adopted a new costume. Her traditional scarlet tiara complimented red breaches and a top somewhere between a wrap-dress or a trench coat.  The cut of the costume varied, sometimes exposing her neckline or covering it. [Uncanny Avengers (1st series) #1] 
13) Wanda's next Unity Division costume was a one-piece body suit made of a vest with a plunging neckline and leggings. The vest was dark scarlet with lines running down the lighter red leggings. She also wore opera gloves, flared boots, and of course her tiara. [Avengers & X-Men: Axis #9] 
14) The Scarlet Witch adopted a new costume with an hourglass, red and black corset over black pants. The top also connected to long red sleeves and black gloves. She wore a half-cape partially draped around her neck with a red clasp based on her tiara design. Her new headpiece was somewhat more detailed, evoking her Romany heritage with small beads dangling from it. [Doctor Strange (4th series) #1]
-) During her interactions with Magneto and Krakoa, Wanda has returned to wearing a version of her classic costume.