Publication Date:
5th Mar 2019
Costume Gallery
COSTUME GALLERY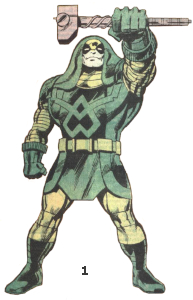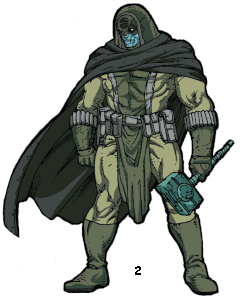 1) As a member of the Public Accuser Corps, Ronan wore a power armor that was the standard uniform of the Corps. The armor gave the appearance of a simple green tunic with a hood covering Ronan's head along with a mask that left the lower half of his face exposed. Additionally he wore light green armor on his arms and legs and dark green boots and gloves. The tunic portion of the armor contained an emblem that resembled an arrowhead with lines radiating out to each shoulder. Sometimes, he wore a purple variation of this armor [Fantastic Four (1st series) #65] Image - Official Handbook of the Marvel Universe (1st series) #9 
2) During his exile in the Annihilation War, Ronan retained his hooded power armor but stripped of emblems and markings. Around his belt, he wore some practical pouches. [Annihilation: Ronan #1] [Image – Annihilation Ronan #3, page 20 panel 1]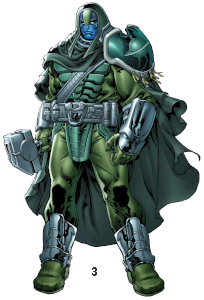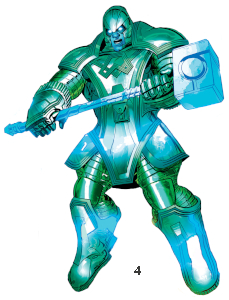 3) Following the Phalanx invasion, Ronan implemented some practical militaristic amendments to his uniform. He donned a dark green chest plate, a bandolier across his torso and silver gauntlets and shin guards. Most prominently, he incorporated a prominent pauldron on his left shoulder, emblazoned with the Kree emblem. [Secret Invasion: Inhumans #3] [Secret Invasion: Inhumans #3, page 9]
-) Over time, after the Inhuman's took over Ronan varied between #1 and #3.
4) After submitting to the Black Vortex and becoming cosmically empowered, Ronan received an upgrade to his armor. While it retained the same design and color scheme as his previous armor, it was much bulkier. [Image – Guardians Team Up #3, page 12]