Publication Date:
9th Feb 2023
Costume Gallery
COSTUME GALLERY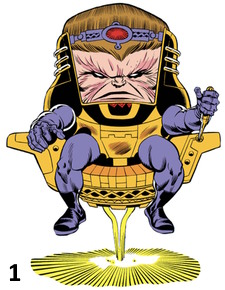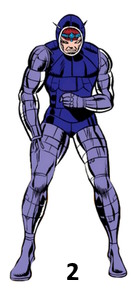 1) M.O.D.O.K. was created by an evolutionary accelerator, giving him an enlarged body and an even larger head, disproportionate to his body. Unable to stand on his own or support his own weight easily, M.O.D.O.K. employs a special support device to keep his head upright and provide him mobility, first referred to as his Doomsday Chair in Iron Man Annual #4. M.O.D.O.K. wears a purple armored body suit beneath the outer orange, egg-like frame of the chair. (Early versions of the suit made it look as if M.O.D.O.K. was merely leaning back in the chair, instead of encased in its shell. It also appeared in several shades of gray and purple in early appearances before settling on orange-and-purple.) M.O.D.O.K. alternates between rocket propulsion and magnetic levitator beams from the bottom of the chair for transport. A psionic blaster is built around the focusing gem on his purple headband. M.O.D.O.K.'s offensive capabilities are centralized in this gem and damaging it has often prevented him from firing his brain-blasts. [Tales of Suspense #94]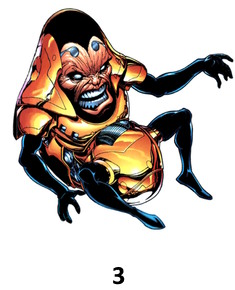 2) When M.O.D.O.K. decided to confront the Hulk physically, he designed a massive robotic body proportionate to his enlarged head. He could jettison from the "cockpit" of this super suit when threatened. [Incredible Hulk (2nd series) #167] On later occasions, M.O.D.O.K. would adopt similar enlarged frames like UltiM.O.D.O.K. or G.L.A.D.O.S.
3) For a time after his resurrection, M.O.D.O.K. adopted a different appearance for his Doomsday Chair. While the normal design was quite vertical with supporting his posture, this Chair was more of a BarcaLounger, with his legs splayed out in front of him instead of sitting perfectly straight. [Wolverine (2nd series) #142]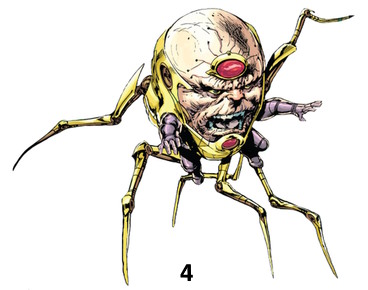 4) M.O.D.O.K. Superior initially presented with a bald head, as his brain was transplanted into a cloned body and the head was shaved to surgically implant it. He also made the curious decision to convert his floating Doomsday Chair into a ground-based transport using spidery legs for support and movement. Later versions showed the flight feature was still present as a secondary system. [Hulk (2nd series) #29]
5) M.O.D.O.K. adopted a more imposing(?) mohawk haircut when he led a hired mercenary outfit.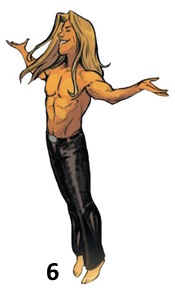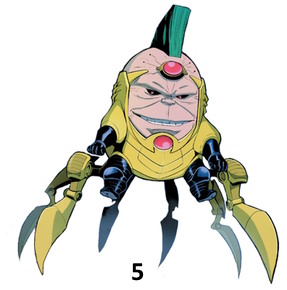 His suit was also more armored and with heavier supportive legs than the spider-y ones from before. [Unbelievable Gwenpool #1]
6) In an attempt to make himself more attractive to women, M.O.D.O.K. heavily reconstructed himself into the handsome B.R.O.D.O.K., the Bio-Robotic Organism Designed Overwhelmingly for Kissing. He gave himself washboard abs, Fabio hair, rocket boot feet, and black leather pants. By mistake or intent, his head was also still slightly disproportionate to his body, making an odd visual. [West Coast Avengers (3rd series) #1]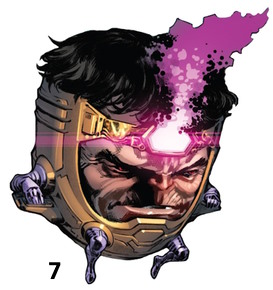 7) In recent appearances, M.O.D.O.K. has more-or-less reverted to his classic design and Doomsday Chair. He appears even more disproportionate than before, with his limbs looking substantially smaller compared to his already massive head. [X-Men (6th series) #8]