COSTUME GALLERY
Many of Hera's looks are seen once and never seen again. She also changes her appearance radically from her hair color to eye color and even her racial identity. An in-character reason for her frequent changes may be explained by Zeus' consistent adultery; possibly she felt changing her own appearance may increase her chance of maintaining his interest. It is notable that her appearance was at its most stable when he was dead.
1) In the ancient world, Hera wore traditional clothes for the period: white Grecian dresses/stolas etc. Her hair during this period was depicted as red and she had either green or blue eyes. The length fluctuated but usually she would have a central braid with the straight hair behind in either a ponytail or loose. She also would adorn the outfit with gold jewelry. Interestingly, she also appeared to be barefoot in these appearances. [Incredible Hercules #140, 126, 122]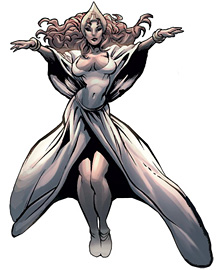 2) Hera dressed similarly here, insofar she was again wearing white and traditional ancient Greek clothing with gold arm bracelets. The most notable change here is the golden crown/tiara, which would become somewhat of a stable element in many of her looks going forward. Her hair also changed here and, while still red, now had flowing curls. It was unclear if she was wearing shoes or just had ankle bracelets [Hercules (3rd series) #2]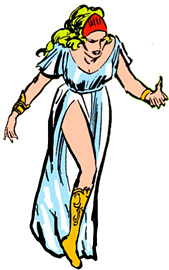 3) Again, this outfit still consists of Hera wearing a white loose Grecian dress but this time she is clearly wearing an orange boot (likely intended as gold but colored incorrectly). She has also maintained a tiara/crown but the color has changed to bright red. Interestingly, this is the first time we see her change her hair color. Hera was now a blonde but had kept the curls. [Thor (1st series) Annual #5].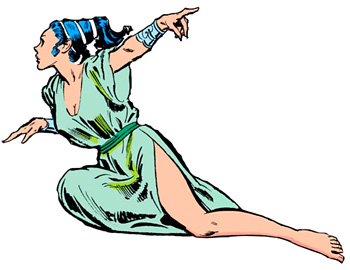 4) This is the first big shift in Hera's look. Now a raven-haired beauty, she had dropped the tiara for an elaborate updo. She had also changed her dress color to green, while retaining the Grecian style and her jewelry was now blue. She was once again barefoot [Thor (1st series) Annual #8]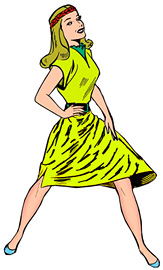 5) On Venus, Hera (or rather Juno) had another dramatic change in appearance. Now with light brown hair, she adorned her hair with a ring of red flowers. She also had switched to a bright yellow style of Grecian toga dress [Marvel Mystery Comics #91]
6) When back on Earth, Hera kept the same color scheme but adapted her wardrobe to suit the time wearing a long yellow skirt and sleeveless blouse with a green undershirt and belt with blue slip-on shoes. She kept the tiara of flowers while on Earth [Marvel Mystery Comics #91]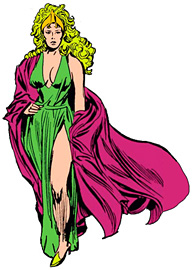 7) Hera had returned to be being a blonde with long flowing hair and brought back her original tiara/crown which was now gold. She had also starting wearing a deep green Grecian dress in addition to a purple cape with gold heeled shoes. [Avengers (1st series) #284-285]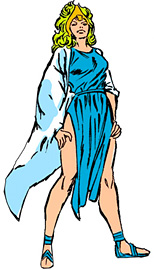 8) This period was relatively stable for Hera's look and she kept the same hairstyle/color and tiara/crown but was wearing a blue dress now instead with a white cape. She also had blue sandals. [Avengers (1st series) #349] She wore a greenish/brown version of this dress in Avengers (1st series) #357.
9) As Augustine, Hera again kept a similar look with flowing blonde hair. Traditionally she wore stylish clothes for the 90s. In her first look, she is seen wearing a black tank top, black boots, sunglasses and combat trousers. [Avengers (1st series) #380]

10) When Hera revealed herself and fought the Avengers, she was now solidly in the role of a supervillain and her look reflected that. She had kept her blonde locks and crown/tiara but was wearing knee-high purple boots with suspenders, a strapless purple one-piece, blue gloves and a belt with circular embellishments. [Avengers (1st series) #384] She wore a variation of this look in Incredible Hulk: Hercules Unleashed #1 but the primary color was now red instead of purple. She had added a red cape and her hair was white. It is possible this was a colorist error, given how close the look was to the previous one.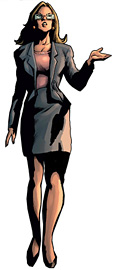 11) Now part of the modern world, Hera had again changed her look. She was still blonde but her hair was to her shoulders and straight. She often wore glasses and typically work or office attire, such as in this one where she is wearing a grey blazer, skirt, high-heels and pink shirt and earrings. [Hercules (3rd series) #1-5]
Note: Hera also featured in Ares (1st series) #1-5 but her looks were very inconsistent and only partially viewed in panels that it was not possible to get a great reference or definitive sense of her attire. Her primary colors were blue and white with some gold embellishments. The most notable moment was that in this series Hera returned to her original auburn roots, albeit with a white streak down the center, similar to Rogue.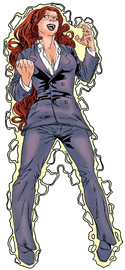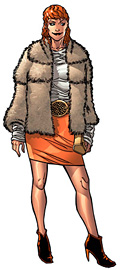 12) With Zeus gone, Hera returned to her red roots (no pun intended). She had various looks but the main theme was "rich." This outfit is a good example: she was wearing an orange skirt (a color she was seen in a lot during this time), a politically incorrect fur coat, red boots and an expensive looking gold belt and clutch bag in addition to a white top. Her hair was also normally very styled and neat. [Incredible Hercules #121-123]
13) Conversely, while in battle, she tended to wear power suits like this one, though the color palette could change. Her red hair would either be tied up entirely or tied behind her head. [Assault on New Olympus – Prologue #1]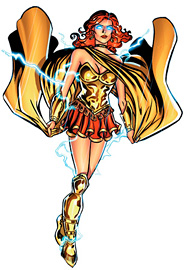 14) Following her return, Hera adopted a more militaristic outfit reminiscent of a roman centenarian with a gold chest plate, red skirt and gold armlets and boots, gold earrings and a gold cloak. [Incredible Hulks #621-622]
15) This was Hera's most dramatic change in appearance, as she literally changed race from a Caucasian woman to a woman who appeared to have African origins. She had a pink/reddish Afro, white eyes and a suit that looked similar to wetsuit. It was blue and white with gold and red embellishments. She also had a gold headband. [Guardians of the Galaxy (6th series) #1]